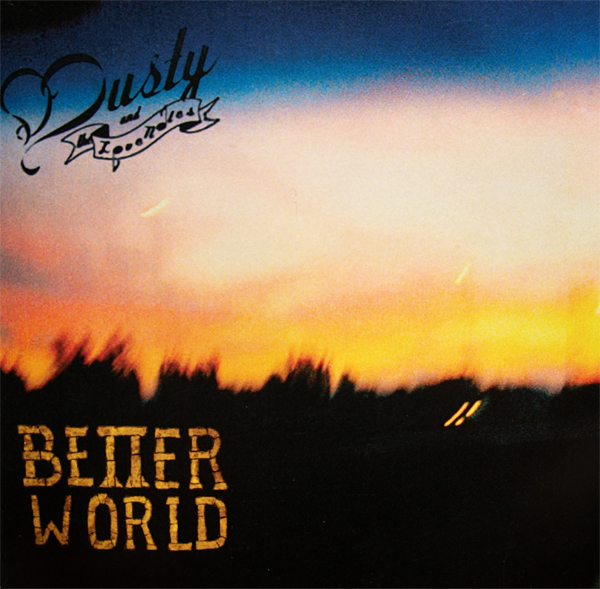 Imagining a Better World
CD Review of Better World (Dusty and the LoveNotes)
When John Lennon sang about the possibilities of a world living "as one" in his now-iconic Imagine, he presented the concept of improvement through negation. He asked his audience to envision "no" heaven, or hell, or religions. Presumably, through these absences, we could focus on the positive aspects of human existence without becoming distracted.
The lineage of world-improvement music continued through Imagine's successors – We Are The World, Tears Are Not Enough. These are sentimental, singable and universal in their appeal to our kinder natures. Like Blowin' in the Wind before them and Waiting on the World to Change after them, such songs reach into the deepest recesses of the heart and draw out our shared longing for peace, for love and understanding, for an end to the kind of terrifying violence that generates a Newtown or an Aurora massacre. We don't seem to have listened attentively enough, or at least the message hasn't been absorbed, but that doesn't stop artists around the globe from continuing to promote it and hope for the best.
With Better World, Dusty and the LoveNotes have emphatically taken their place in this march toward human redemption. Dusty Recor's inventive lyrics and powerful lead vocals, combined with Indian Joe's effortless guitar and rich vocal harmonies, make for a winning blend. They're capably supported by a talented trio of backup musicians to add further depth.

Here is a CD for the thoughtful listener who likes his or her contemporary tunes well-seasoned with a touch of blues and a hint of rockabilly. It's honest, unpretentious and totally impressive. Both the music and the vocals reveal a combination of insight and gutsy delivery. Dusty's smoking-hot alto voice is resonant and flexible, with the added bonus of such clear diction that every word is understandable (after all, anything worth hearing is worth hearing accurately). She can shift from sultry to sublime, sarcastic to sweet – and it sounds natural. It would be easy to think of her with Joe at a kitchen party, shaking the ceiling. Their songs have an unstudied quality, as if they're fresh from the heart every single time.
Dusty's voice carries the same intensity as Tracy Chapman, with just a hint of Kim Carnes rasp to make it even more interesting. Her lyrics are reminiscent of Patti Scialfa – biting, sometimes wounded and full of the unexpected. Yet she is none of these women. Dusty isn't imitative in any sense. She respects the great R&B singers of the past, acknowledges their folk and rock influences, but takes her own course. As a songwriter, she is clearly blessed with the dual gifts of keen observation and razor wit. Better World sidesteps the carefree sass of a predecessor CD, What Did You Expect, with its tongue-in-cheek (no pun) Blue Satin Thong and S.P.C.A. But that doesn't mean it's dull. For instance, there's wry humor in the quirky and self-confident Owner's Manual. She's a woman who comes with No safety instructions, no satisfaction guarantee and who can resist that warning? Expect to be happily surprised.
That having been said, Dusty is no precocious teenager or twentysomething star. She's a mature performer who's seen and done more, and been in more places – both geographically and emotionally - than most of her younger sisters in music. Her words are as real as it gets. Women instinctively trust what she's saying because we can recognize it. There's an "Oh YEAH!" reaction. It's a relief to hear someone who can speak to the experiences and hopes of her own generation. Here's an emerging artist who can rightfully claim a spot among the most unique and attention-getting of today's younger – and often less talented – hopefuls. She'd dance right over most of them, in fact. Indian Joe, appropriately enough, is well-matched; he's been down the highway and in essence, he's a one-man band in his own right – but content to allow Dusty the spotlight. Their partnership is made in songsmith heaven and destined to craft a memorable body of work.
To that end, the title song offers a plea for greater goodness in the world. Its release so close to the horrific events of Newtown, Connecticut seems both ironic and fortuitous. If ever we need a reminder that we've got to fix things, it is now.
If everything I touch is better than I found it
If every act has a kindness around it
If I can effect a measure of improvement
Think what we could do if we all put our minds to it
We're astute, technically advanced
Yet we wage war as in our past
Blood and guns, our ultimate tools… (Better World)
This is an anguished mother crying out; it's a frustrated citizen watching his or her community disintegrate; it's an individual confronting immense challenges but determined to make a positive imprint in spite of them. And it is one heck of a song! The quiet guitar intro segues into a reflective commentary that builds in impact as it progresses. Floyd Fronius skillfully weaves his violin like an invocation to peace, a counterpoint to anger. Underlying the whole structure is the driving rhythm of Brian (Nucci) Cantrell's drums. The song ends as it begins – gently, wistfully. It tempers hope with reality, and it deals more with presence – of both good and evil – than with absence of either one.
Better World is immediately followed by the more energetic and self-mocking Lead a Horse with its personal and somewhat cynical take on a failing relationship. Most of us have been there at some point (boy, have we ever!). You rely on me to set you free./Honey it ain't as easy as it used to be./I give you all I got. Got nothing left./The way you need me baby like to bleed me to death. The rhythm section of this one is especially engaging. It's a head-nodding, foot-twitching treat. In a way, it's also a bit of an ironic complement to the bitter tone of the lyrics themselves.
Devil's Clutch definitely showcases Indian Joe's brilliant guitar, and Dusty's magnetic performance is nicely underscored by Jon Hasz on backup vocals. While its theme is a familiar looking-back at a love affair long gone, the approach to this reminiscence isn't even close to being routine. It hits hard and leaves blood on the floor. Whether that blood belongs to the singer or to her past lover is unclear and best left that way. Pain can cut in both directions, after all. How well we recover depends on who ends up with the worst scars.
I want to know, can you hear my song? Did you beat the odds? Are you long gone?
Did you learn to live? Did you mend yourself?

Did you see the light? Are you somewhere else? (Devil's Clutch)
One of the album's most intelligent aspects is its organization. The angst of Devil's Clutch is countered by the more mellow and resigned Pray Out Loud, which can be taken as another personal affirmation although it expands to include the rest of suffering humanity. The rain metaphor is effectively incorporated into images of washing away tears - usually linked to lost romance but in this case, there's a cleansing process that the singer offers to her broken world. The prayers are less religious than spiritual. Going to … throw my head back/let the rain roll down my face,/mingle with my tears, wash away my fears …/I pray the rain will clean this worldly mess/wash away the evil, the evil that never rests.
Surely this song, too, speaks for the fallen children and the families torn by grief. It is the lament of the earth itself.
There follows what is perhaps this reviewer's favorite track, the haunting and surrealistic Taos. Indian Joe's arrangement with its Native American drum rhythms, and Dusty's soaring flute, both lift this one into the realm of magic. It suggests that we live in a dimension where at unexpected moments, the gateway opens into another place entirely, inhabited by mythic beings and archetypal characters who look like us but really aren't. Those familiar with shamanism will recognize overtones of the shamanistic tradition here. This is the kind of song that draws seekers to unfamiliar territory! If it reaches a wide audience, Taos – the city - might well see a few extra tourists as a result.
All of my life I've reached for the stars, Orion above has kept me from harm
When we parted I asked that he watch over you and protect you for me. (Remember Me)
The Native American awareness of and closeness to natural forces and their influence is continued in the poignant Remember Me. This theme is one which the band might well develop further. First Nations people possess a vibrant musical heritage, which these musicians seem especially suited to explore. Perhaps it might form the backbone of another album along the path.
The CD also includes other tracks not mentioned here; they're left for the listener to discover. It concludes with the aptly-titled Epiphany. This brings the offerings full circle; it closes with a search unfinished, a question unanswered. The Better World, it seems, might be on the way but it hasn't arrived yet. The trick is not to stop looking for it; not to stop believing in it.
When one door closes, another door opens
I'm here hoping another door opens soon
It appears I've lost my senses. I fear the consequences
I'm here searching, searching for an answer to this gloom. (Epiphany)
Dusty and the LoveNotes won't be leaving their fans groping in the gloom. Their next album will be eagerly received and continue the journey forward. Meanwhile, give Better World a serious listen. It's a great addition to earlier efforts and a promising foretaste of more to follow.

Better World: Dusty and the LoveNotes; recorded and mixed by Jon Hasz, composed and arranged by Dusty Recor and Indian Joe Stewart, with Floyd Fronius on violin, Brian (Nucci) Cantrell on drums and Jon Hasz on backup vocals. Dusty Recor – lead and harmony vocals, flute; Indian Joe – backup vocals, guitar, bass, harmonica. © 2012 Recor Records
About the Reviewer:
Brenda J Tate studied Voice in her hometown of Wolfville, Nova Scotia with Professor Leonard Mayoh and Doris Mayoh. She has performed as a classical mezzo-soprano, acted in musical theater and sung with various choral groups. Her own music is featured on her YouTube channel under the username of Silharima. Brenda was a winner of the Smithbooks/Coles national book review contest in Canada and has also received several awards for her poetry. She has published three collections of her work. Visit her at http://www.brendatate.com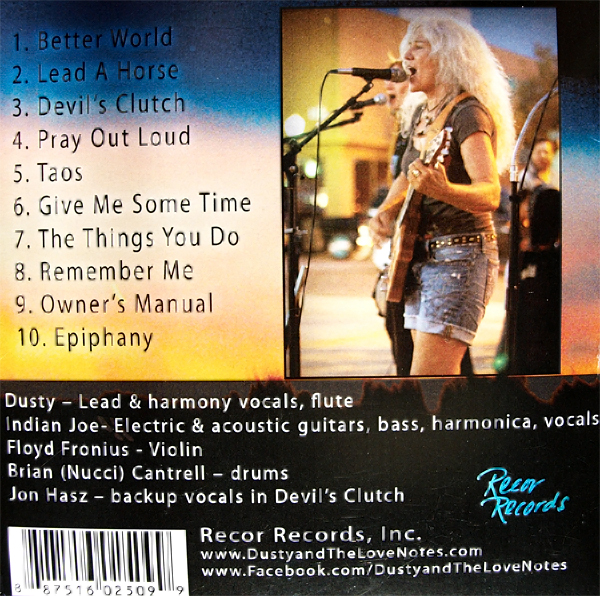 http://www.youtube.com/watch?v=aFnlYEikgcU